Projects
Cover Storey is a friendly, busy design and relationships led RIBA chartered architectural practice, based in Havant, Hampshire. Our studio environment is one of openness, mutual support and nurture.
Our ethos centres on collaborative design and client involvement, with design solutions and innovation at our studio's core. Our aim is simple – enjoy the journey. We seek to engage and excite our clients, collaborators and stakeholders, ensuring that our architecture enhances the environment and the lives of all who interact with our schemes.
We specialise in architecture, interior design and the delivery of bespoke and personalised project solutions. Our current portfolio includes projects within such diverse sectors as bespoke homes, education, masterplanning and commercial development.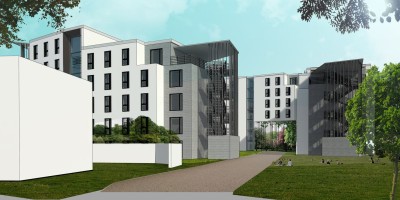 Whenever a discussion about student residences begins, the topic of 'modular' jumps up and down, shrieking for attention. We have extensive experience in designing and delivering student residential schemes of all shapes and sizes. Some modular, some with pods, others off-site panel construction, some combining all three and still others being traditionally constructed. There...