West Wittering Cafe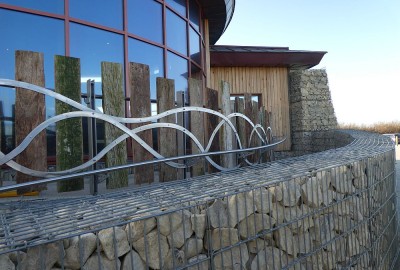 Client:
West Wittering Estate PLC
Contractor:
Sienna Construction
Project Manager:
SMD Consultancy Ltd
West Wittering Estate's new "Sussex Heritage 2021 Award Winning" cafe is a 350sqm food hub at the heart of the West Wittering Estate, comprising cafe, shop, extendable seasonal outlets, education zone and management facilities. The scheme was originally designed to be of the earth itself and so as we take the scheme through its latter stages of development, its materials and textures are critical to its success. The dramatic and harsh environment here is ever changing and shapes anything and everything which stays too long.
Our scheme embraces that, comprising a series of interlocking spaces beneath green roofs growing indigenous plants including local grasses. These planted 'dunes' are framed with pre-patinated copper detailing over an outer skin of glass, timber and limestone gabions. The story of the beach and its surroundings are fundamental to the Client's desire to create a building which lives in harmony with its surroundings, the gabions fusing with the sand as it drifts across the landscape.
In developing the detail of the design, re-using the richly textured redundant sea defences provides a unique opportunity to create a contemporary guarding which will preserve and reflect the weather which is such a central force in shaping the Witterings on a daily basis.
The awarding judges' comments: "A beautifully executed project unconstrained by financial limits.  Superb!  Outstanding choice of materials including local re-used materials/features.  First class entry with great attention to fitting in with the environment.".