Vahnea Student Residences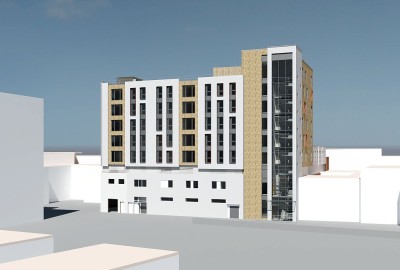 Client:
Vahnea Marolda Investments
At first sight, a post-war former Woolworth store in a seaside town might not seem the obvious choice for development. However, an airspace (rooftop) development was the challenge set by our client from the outset - what could we achieve over this building?
The site is complicated by being largely terraced with an incumbent tenant whose business needs to be protected through any construction period, but the presence of a successful and expanding university suggested that student residences would be a good solution both for our client and also for the local economy.
The highly experienced team which we put together for this scheme, comprising our friends and colleagues at Ridge and Campbell Reith, is a measure of the complexities of the scheme.
The building will be devised of a simple series of forms responding to the composition and colours of the high street - ranging in height from a single storey to five storeys above the existing building - and centred around a private roof level courtyard. The challenges of the site will be resolved through a bridging transfer structure devised to avoid any midspan structure penetrating the existing roof and thus enabling the main store to remain open through the majrity of the construction phase.