The Willows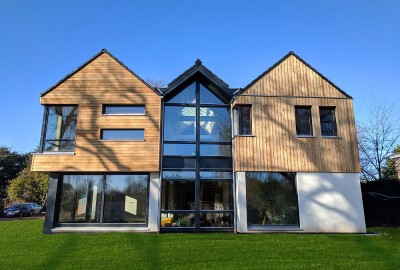 Client:
Private Client
Contractor:
MeisterstuckHAUS
Bespoke homes present us with the exciting opportunity of realising the dreams of our individual Clients, as they embark on what will likely be one of the most significant emotional and financial investments that they will ever make. Our Clients are central to the development and direction of each and every project at all times from concept through to completion and beyond.
The Brief for the Willows was to devise a flexible open home for modern family life, closely connected to their beautiful gardens and countryside surroundings. The home is intended to sit comfortably within the conservation area and be outwardly modest when viewed from the road, reflecting our Clients' private nature.
The German engineered MeisterstueckHAUS system delivers Passivhaus standards of airtightness and thermal insulation, translating to efficiencies which will enable the house's total heat and hot water requirement to be delivered via a natural ventilation heat recovery system and a single ground source heat pump.
We worked closely with Havant Borough Council planners to ensure that this contemporary home would sit comfortably within the 'Old Bedhampton' conservation area of and it is always pleasing to receive positive responses in return.
"The application clearly demonstrates careful consideration of the local character and context. The design response in terms of scale, articulation of materials and position within the site is deemed to be very positive."
Once inside, the home opens up with views through to the stream beyond and view through the stairs and glass roof to the stars. Simple colours and high quality finishes create a tranquil and classic modern interior which has a sense of the informality which is so important to this family.
At 370m2 this new home will have more living space than the 1950's house which it replaces, in spite of the saving of some 35m2 of internal floor area.