Private Eco Home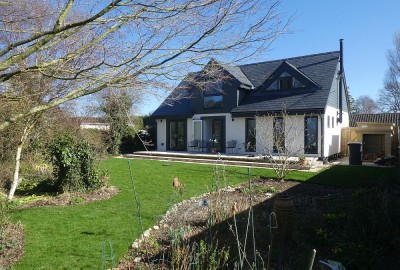 Completed:
Winter 2020
Client:
Self Build
Contractor:
Skeens Construction
Project Manager:
Cover Storey Architects
Designing an individual private home is perhaps the greatest of privileges for an architect. Your client should have absolute trust and confidence in your ability to understand them and to be able to interpret their aspirations, unlocking the full potential of their plot.
In a quiet tree-lined road in West Sussex, sat a post-war pre-fabricated bungalow, former home of the parents of our Client. Single glazed, some years beyond the fabric's life expectancy, our Client invited us to discuss replacing the bungalow with a subtlety contemporary new home; a home which would be a modern interpretation of the existing dwelling, suited to our Client and her way of life.
With memories of the old house reflected in the new layout, an initial sketch grew over the coming months into what we have now built. The new home is all about its beautiful garden setting, being quietly assured from the front whilst opening up dramatically into a myriad of framed views of the garden. The landing is so much more than simply the arrival upstairs, with its void overlooking the entrance hall to one side and stretching into a reading gallery overlooking the garden, with glimpses of the Downs beyond.
We started with a client and aspirations, and now see a beautiful, bespoke and modern Eco home, lived in by a friend for life.