Oxmarket Gallery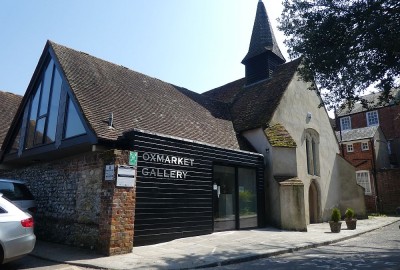 Completed:
Spring 2021
Construction Period:
10 weeks
Client:
Oxmarket Gallery
Contractor:
Ascia Construction
Project Manager:
Cover Storey Architects
The Oxmarket Gallery lies within the historic centre of Chichester, exhibiting a wondrous diversity of arts and crafts.
In 2019 we were delighted to win the design competition for the revitalisation of the Gallery. The competition scheme sought to reflect the Gallery's inclusive and accessible ethos, providing full and ease access to and through all gallery spaces, together with using a new entrance to enhance the visibility and presence of the Gallery on the Chichester Art Trail. The Gallery is unique in its accessible approach, enabling artist from local artists and groups through to artists of international acclaim such as Philip Jackson, Sculptor and the Society of Designer Craftsmen to exhibit side-by-side, affording a level of visibility for aspiring artists which would simply not be viable without the not-for-profit ethos of the Trustees.
Working closely with the fantastic team at the Oxmarket, we collaboratively developed what we believe to be a truly transformative refurbishment and enhancement of the Gallery. Traditional lime renders and leadwork have come with contemporary rubber floors and high-tech infrared glass panel heating to bring out the best in the stunning location of the former St Andrew's Church which dates back to the 13th Century.
Two years in preparation and just ten-weeks in the making, this ambitious programme was made possible by a whole project team working together with a can-do attitude. The end result is a fantastic new entrance and 'welcome' gallery which now flows seamlessly through the individual exhibition spaces. It is at once exciting to see the Gallery pen to the public and also slightly sad that such a fun project must come to an end.