House on the Hill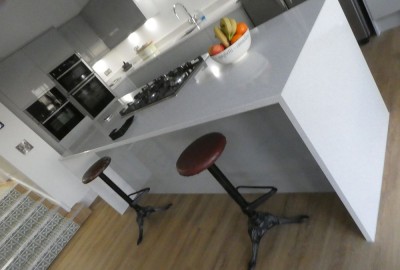 Client:
Self Build
Contractor:
Skeens Construction
It is both a privilege and a responsibility to undertake the creation of a private home.
Our brief was to create a two-bedroom family house, modest from the street but fit for entertaining and modern family living. The house is constructed using SIPs panels, polystyrene block floors and high levels of airtightness.
From the street, the appearance is of a chalet bungalow with modest hints that things might not be entirely normal. The dramatic slope down away from the street enabled us to open up into a 1.5 storey high kitchen living space, which creates a dramatic first impression as from the front door, you can see straight through the house and to the garden with long views of the Spinnaker Tower in the distance.
The house has been so successful that even in the depths of the 2020/21 winter, only the living space and the entrance hall heating is ever used!